The good thing is that the market is flooded with hand grip camera straps, the bad thing is that the decision-making can be time-consuming and confusing.
Finding the finest camera handgrip strap that meets your needs might be challenging. To solve your problems, we have curated a list of the 7 best camera straps that you can choose from.
Before we jump to the list, let us discuss what to look for on a handgrip camera strap. While you can easily choose a cheap hand grip strap, we want to remind you that this thing is going to be around your hands and will greatly influence the mobility of your hand. It will also be securing your camera.
We just want you to remember that a handgrip strap will cost somewhere around 20 to 25 dollars, but your camera costs a lot more. So, a good hand strap is like a good phone case.
Also, because hands straps will easily last a few years, make sure you buy the one that you will want to keep. Finally, a bad choice will mean that you will face a lot of nuisances while shooting.
Best Handgrip Camera Straps
JJC Deluxe Camera Hand Grip Strap
This professional hand grip strap by JJC, a popular brand in this category, is compatible with most cameras with a 1/4-20 tripod socket and square neck strap eyelet. You screw one end into your camera's 1/4-20 tripod socket and the other back threads through your camera's strap eyelet.
What we like about the strap is that it is adjustable for any hand size. The handgrip has some padding as well. The metal base plate is a charm because it has a quick-release plate with a standard 1/4-20 socket underneath.
The Arca Swiss-type quick release makes it easier to mount the camera on a tripod with the strap still on. The strap looks pretty nice and feels high-quality. It screams durability. However, we feel with some cameras the hand mobility is restricted and you may find your fingers extending too much to reach the controls.
Altura Camera Hand Strap – Recommended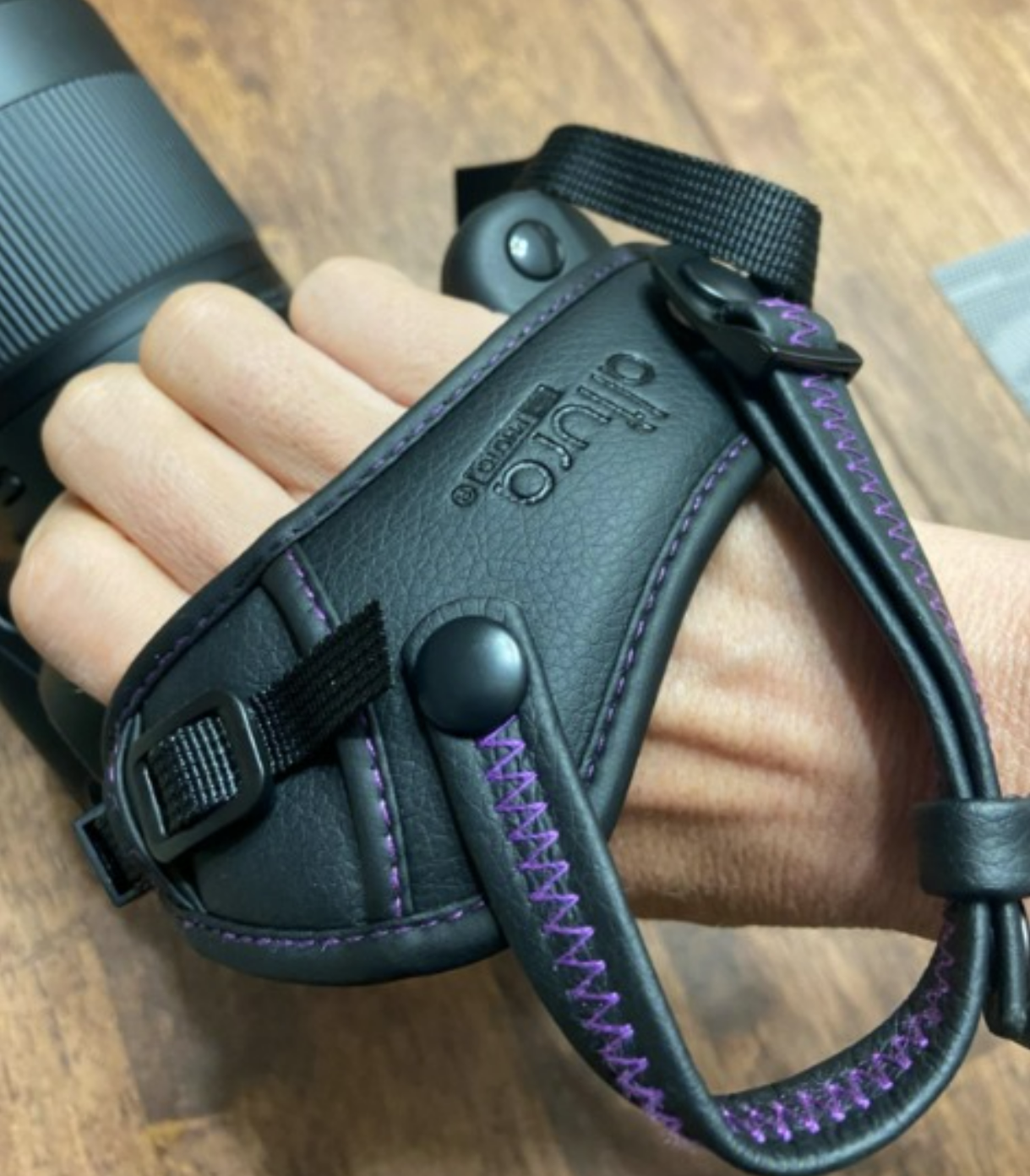 Altura's handgrip camera strap comes with padding and a comfortable grip. The product looks and feels premium. The strap features purple stitching detail and an embossed Altura Photo logo.
The strap is compatible with Altura's neck strap as well. So, if you have one of those, it makes sense to get this one. The camera base plate could be a little better, the little protrusion on the base plate makes it difficult to lay the camera on flat surfaces.
Of course, you could take it off, and it is mostly the same with most camera straps, but hey, wouldn't that be great if it wasn't. After extended use, the camera straps may get a little loose. Overall, it says what it does, and during long shooting sessions, it will not tire your hands.
USA Gear Professional Camera Grip Hand Strap
Quite honestly, what we like about this camera grip is the fresh look. And this fresh look is on top of some good performance as a camera strap. USA Gear's hand strap comes with good padding and a colorful pattern design. We love it.
The strap features an adjustable design and a quick-release lock system. This allows you to easily free your hand when needed yet still hook back into the strap quickly.
The base metal plate is a standard screw mount. To mount the camera to a tripod, you will have to detach the bottom plate. We would have loved an Arca Swiss-type mount on this one.
Herringbone Heritage Leather Hand Grip Strap – Best for DSLR SLR Cameras
The Herringbone Heritage Hand grip strap is made with genuine leather. We like the look of the strap. As this strap is much smaller than the JJC and the USA Gear strap, it looks really good on the camera as well. Its premium looks help as well.
Though the hand strap from Herringbone Heritage is probably the most expensive on the list, it feels like it will last a lifetime. The strap is straightforward and does not have a separate band that goes around your wrist.
This makes the strap very nifty to use. While it may be a less secure system, it does make it less cumbersome to put on and take off while shooting. You can also buy an Arca Swiss-type mount from Herringbone for the tripod mount plate.
Lynca E6 Leather Wrist Hand Camera Strap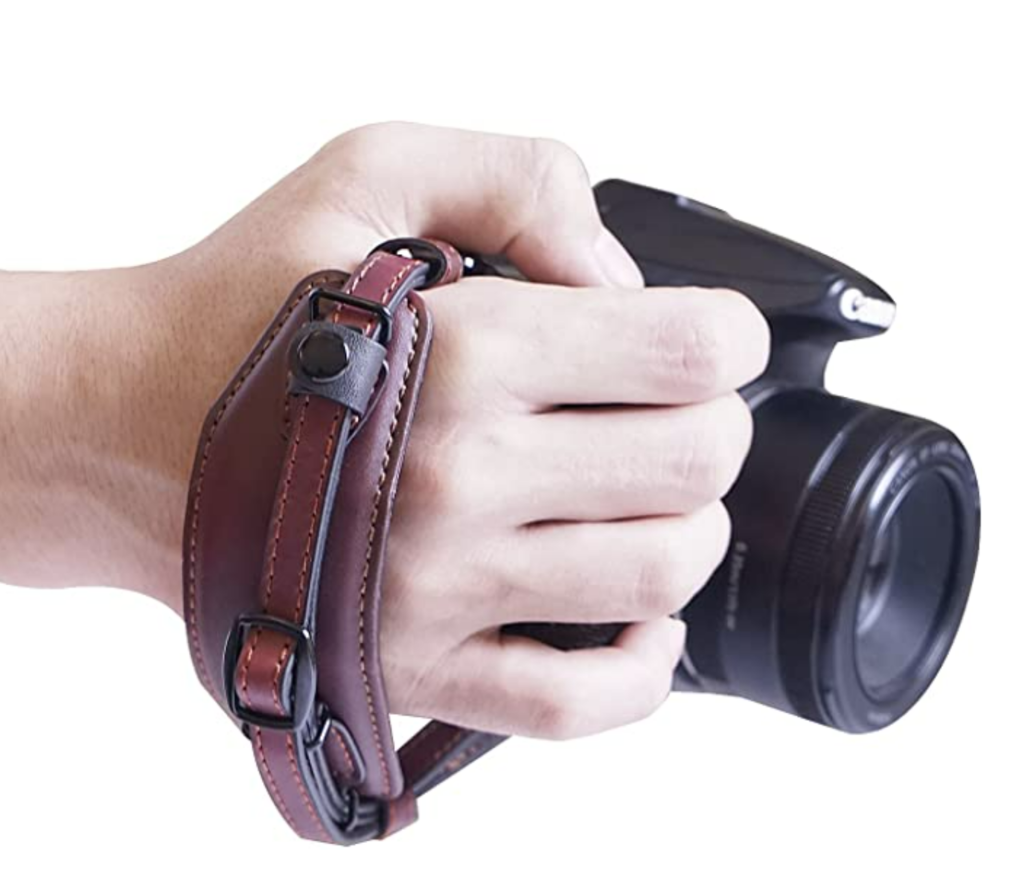 Lynca E6 is another leather finish strap but at a significantly lower price. The padding on this one feels nice and the leather finish looks attractive as well.
This strap also does not have a band that goes around the wrist, but again, like the Herringbone Heritage strap, this does not restrict your mobility as well.
Lynca hand strap will easily help you to stabilize a camera when shooting. The padded professional hand grip strap also prevents any fatigue during extended sessions.
The base plate is a quick release multifunctional plate, but it is not Arca Swiss-type. The straps are long and the bands are easily adjustable. We also admire the color of the strap, it is a welcome change from a regular black one.
JJC Camera Hand Grip Strap
Competing well with lightweight hand grip camera straps, this second product on the list from JJC is much lighter than the deluxe version. The base plate is different, it uses a thumbscrew design that you see with other models.
Because it does not have an additional strap for the wrist it is very easy to install and remove. The lack of a hand strap actually makes it easy to move your hands while shooting, albeit at a reduced secure grip.
The strap has a neat JJC branding on the outside, and it looks very nice with the camera. It is also a lot cheaper than the deluxe model.
Toazoe Leather Hand Grip Strap
The Toazoe leather hand grip strap is very similar to the one we see from JJC. It has a much rounder padding on your hands, which can make it a tab bit comfier.
The strap mounts its screws directly into the base of your camera via the tripod mount. You will have to remove the screw if you want to mount the camera on the tripod.
Apart from that, the design is really lightweight, and you can be sure that this strap will have no dangling bands to disturb you when you're shooting.
Because it is a nifty product, you may not feel comfortable using it, if your camera is big. We too recommend this if you have a lighter camera.
The strap is on the cheaper end of the list. We feel the quality of the material is a little lower than the one we see with Herringbone Heritage; it is just not the same kind of leather. But, with its attractive price point, it is one of the best straps in the market.
So, here we have the 7 best handgrip camera straps. Handgrip camera straps are a good alternative to neck straps, they are popular because they not only provide a more secure way to shoot but some stabilization while you shoot. You can choose the best strap for you from the list and enjoy your camera even more.