Action camera technology has progressed significantly over the last few years. The best action cameras available on the market today, come with multiple features, are waterproof, shockproof, sturdy, and can be safely mounted to anything from your head, your chest, your shoulders, your helmet, and so on.
Action cameras are famous amongst adventure enthusiasts because they can be attached to your body. It is not always possible to walk around with a camera in your hand.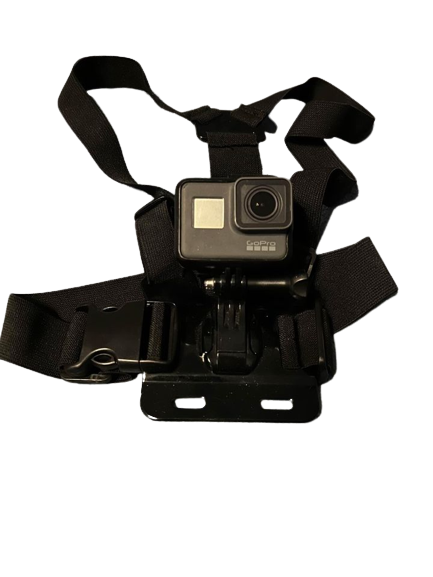 In some instances such as rock climbing, you need to free up your hands. In such a case, the best way to record your adventure while also keeping your hands free is to attach the camera to a part of your body. Body mounts records from a new perspective, allowing hands-free recording.
They often come with adjustable straps to offer a comfortable secure fit while attaching or removing your camera. This allows you to connect your action camera easily to your body, be it chest or shoulders, keeping your hands free to enjoy the activity, whether you are cycling, skydiving, skating, or hiking.
Head Mount
Head and helmet attachments let you capture video from close to your line of sight, which is ideal for shooting first-person Point of View (POV) footage. You can shoot an immersive video for non-impact sports like skiing, rafting, or hiking using a head or helmet mount. However, depending on the quality of your action camera, you might want to consider something sturdier for activities where you are being jostled around a lot.
Chest Mount
Chest mounts are ideals for tasks that need a lower angle than your eye-line, chest mounts are ideal. Depending on the camera and activity, they can also give a more steady shooting option. However, if you want to capture your morning jogs or a marathon, you should be wary of choosing a chest mount since you can wind up with a lot of videos framed by your arms pumping up and down.
Shoulder Mount
Shoulder mounts provide you with a higher, more natural view than a chest mount, but they still sit lower on your eye-line. Shoulder mounts are ideal for activities where you do not need to move your body constantly or excessively, such as riding a motorbike.
Wrist Mount
While shoulder, chest, and head mounts are useful for a variety of applications, they do not provide the same level of flexibility as a wrist mount. The control you have over your action camera is one of the best things about wrist mounts. You can adjust the angle, focus, and POV of your camera without unmounting it using the wrist mount.
Best Action Camera Body Mount
In this article, we've put up a list of the ten best action camera body mounts to offer you some ideas on what might be the best for you while shooting your next adventure.
ASOCEA Chest harness mount
The ASOCEA Chest harness mount comes with adjustable elastic straps that are ideal for people of all shapes and sizes. Waist straps are adjustable from 25 to 67 inches (at full stretch) and the shoulder straps are adjustable from 18 to 54 inches (at full stretch). It may also be worn over a bulky coat.
The package includes J-hook fast release clips that bend up at an angle, allowing you to simply place your camera to shoot at the same angle as your body. This is a perfect body mount if you are looking to film your adventures during cycling, climbing, skiing, snowboarding, surfing, kayaking, go-carting, equestrian sports, and other adrenaline sports.
If you wish to shoot your skis or wheels moving across the landscape, you may alter the angle. More immersive imagery may be obtained from the chest compared to a video shot using a helmet mount as it brings the camera down lower and closer to the action.
This chest mount is compatible with the following action cameras Go PRO Hero 6/5/4/3+/3/2/1, SJ4000/SJ5000/SJ7000, AKASO, APEMAN, ODRVM, Pictek.
TEKCAM Chest Harness Mount
The TEKCAM Chest Harness Mount allows you to capture the action at a special angle, allows you to shoot completely hands-free. It lets you carry your action camera on your chest. The TEKCAM Chest Harness Mount package includes 1x Chest Belt Strap+1x Aluminum Thumbscrew+1x J-Hook.
This strap is an essential gear for boaters, skiers, horseback riders, skydivers, and others. The fully adjustable, comfortable design suits all shapes and sizes, even over heavy coats. It is adjustable to accommodate a variety of adult sizes, shoulder strap length extends from 18 to54 inches and the chest circumference extends from 25 to 67 inches.
This body mount is compatible with several action cameras including GoPro Hero, APEMAN, DBPOWER, WIMIUS, Campark/Dragon Touch, Yolansin, ACTMAN, and many more.
TELESIN Bag Backpack Shoulder Strap Mount
TELESIN Bag Backpack Shoulder Strap Mount is one of the finest outdoor shooting accessories. It is ideal for hiking, skiing, mountain climbing, motorcycling, and other outdoor sports when you wish to film from a "lower than the helmet" perspective.
The shoulder strap is composed of elastic nylon with a polycarbonate buckle, making it extremely soft and easy to wear. It has an ergonomic shape and a shoulder pad that distributes weight equally.
The mount includes a shock-absorbing elastomer base plate that fits comfortably and decreases camera shaking for better video quality. The adjustable shoulder pad accommodates different sizes of shoulder straps, allowing you additional versatility in use.
Zookki Accessories Kit
The Zookki Accessories Kit is one of the most useful kits that action camera enthusiasts can have at their disposal as it comes with a package of different body mounts including chest mount, wrist band, floating handle grip, and monopod handheld mount.
The chest allows you to mount your GoPro camera to your chest. It can be adjusted to accommodate any size person, making it simple to record immersive video and picture footage from your chest. The Head Belt Strap Mount allows you to mount your camera on your head while skating, biking, and skiing.
The monopod handhold mount is easy to lengthen and shorten the monopod handhold mount (8 to 37in). When it's cut down to its smallest length, it's just 8 inches long, making it easy to stuff into a bag. You may also alter the distance and height while taking images of yourself, which is extremely useful for group photos.
The floating handle grip is designed for water adventures. It can float upright out of the water and is easy to spot in the water, making it easier to locate in the sea. When swimming or surfing, the wrist strap design gives additional protection. It is high-quality, incredibly robust, lightweight, and portable.
The Suction Cup Mount allows you to secure your GoPro camera in such as in automobiles, boats, motorbikes, and other vehicles. It's simple to put on and take off. The GoPro may be adjusted to different angles by changing the orientation using the swivel mount.
The wrist strap band can be attached to your wrist, arm, bike handle, steering wheel, or other suitable location. The strap is waterproof and adjustable and made up of nylon and polyester waterproof adjustable strap.
STUNTMAN Pack Mount
The STUNTMAN Pack Mount mounts to the shoulder strap of your backpack creating a stable, comfortable mounting point for your action camera. Thi mount has a large semi-rigid elastomer base plate that fits comfortably and regulates camera movement.
It includes two non-slip straps that can be wrapped around your shoulder strap and tightened with a Velcro brand hook and loop. It is adjustable from high on the shoulder to low on the chest, mounts on the left or right shoulder strap. You can angle your camera in any direction thanks to the ball joint design.
It is compatible with most Go Pro cameras as well as action cameras such as Akaso, Apeman, DJI Osmo Action, Garmin, Insta360, ISAW, Kodak, Nikon Keymission, Olfi, Olympus, Ricoh, Rollei, Rylo, SJCAM, Sony, Veho, and Yi Technology.
Taisioner Shoulder Mount
The Taisioner Shoulder Mount is made up of stretch fabric that fits comfortably on the right shoulder and controls camera movement allowing you to capture high-quality video. It has a double ball head design which allows the camera to be rotated 360° in the horizontal direction and 180° in the vertical direction.
This feature makes the Taisioner shoulder mount extremely useful for shooting and recording. This mount is designed for action cameras as well as smartphones. It is compatible with GoPro HERO models, Black White Silver Max Fusion Session, and other action wearable cameras such as AKASO, Dragon Touch, APEMAN, Crosstour, XiaoYi, Sony etc.
SUREWO Wrist Strap Mount
Wrist strap mounts provide a good alternative for selfie sticks if you are looking for a short on-the-go video. Unlike a selfie stick, it frees up your hands while you do other things.
The SUREWO Wrist Strap Mount is easy to use and can be installed with one hand. It comes with a base mount that has four secured buckled. It is made up of skin-friendly materials that are breathable. It works with all Go Pro cameras.
Go Pro cameras mounted on a wrist strap are a great accessory when you just meander around town or sightseeing. It also has rotation features, which allow you to turn the camera flat against your arm when the camera is not in use.
360 Degree Rotating Wrist Strap Mount
360 Degree Rotating Wrist Strap Mount comes with a rotary head with an automatic locking system. You can simply rotate the 360-degree swivel head on the wrist strap attached to the optimum shooting angle, and it will lock automatically.
Each turn of the spinning head is 10 degrees and there are 36 fastening grooves within. For extra stability, the wrist strap arm mount has a double-layer adjustable velcro strap. Fixing the camera is made easier with four screws around the base. You won't have to be concerned about misplacing your camera.
The wrist strap is built with an ergonomic design. It has a soft elastic microfiber inside, which is skin-friendly, breathable, and sweat-wicking. This allows wrists, arms, and ankles to be all quite comfortable when recording your adventures. The arm strap mount may be put on and taken off with one hand. It's easy and quick.
GO PRO HERO 10/9/8/7 BLACK, HERO 6, HERO 5 BLACK, HERO 4/3+, SESSION, DJI Osmo Action, Xiaomi Yi, and other action cameras are compatible with this 360-degree rotatable arm wrist strap mount accessory kit.
Taisioner Neck Holder Mount
The Taisioner Neck Holder Mount is an ideal body mount if you are looking for something as simple as hanging your camera around your neck and taking it around with you to capture the breathtaking sights at any moment. It is easy to carry everywhere you go.
The neck strap is made up of silicone material wrap that is comfortable to wear. It comes with a neck mount switch, with a turn-on-off design. This makes it sturdier and less likely to be damaged when plugged.
The neck strap is adjustable to necks of different sizes. You can also choose the length at which you want to hand your camera in the neck mount. It is compatible with Go Pro cameras as well as smartphones.
MiPremium Backpack Strap Clip Mount
The Mi Premium Backpack Strap Clip Mount is a heavy-duty durable mount designed for extreme adventure sports such as skiing, hiking, climbing, rafting, etc. The MiPremium camera clip attachment can be quickly attached to your bag, cap, or other items, making it ideal for Go Pro and other action cameras.
The thumbscrew is made of rustproof aluminum and is made of strong durable ABS plastic, designed to keep your camera safe and secure while using. In all weather situations, this shoulder clip is ideal for indoor and outdoor use.
It has a 360-degree rotation and a 90-degree tilt feature that allows you to acquire the best recording angle for your action camera. It is compatible with GoPro Hero models & Crosstour SJCAM SJ6, SJ7, legend M20 SJ7000, SJ6000 SJ4000, Xiaoyi, APEMAN, Campark, and alike action cameras.