The Activeon brand produces action cameras for much less compared to the GoPro. The latest GoPro costs around $350, and the Activeon costs only around $70. But, what about the inside of the camera? Do the features and specifications of the GoPro justify the steep price, and is Activeon, a real GoPro Killer? 
In this article, we will look at both these camera brands, and pit them against each other. Finally, we can conclude how far away they stand from each other if they do at all.
Looking at the vast price difference, the GoPro 9 Black with its latest features may not be a fair comparison for Activeon, but it can surely be compared with earlier GoPro models that still sell in the market, such as GoPro Hero 7 and Hero 8.
The GoPro Cameras
GoPro has been listening to its customers and has been upgrading its cameras with highly desired featured. The latest camera from GoPro, GoPro Max, is an example. But GoPro has a lot of cameras in its product range.
The older models such as Hero 7 Black get taken out of production, as the new ones are prioritized. However, these old models can still be found easily in the market and online. The good thing is that these older models are available at far lower costs than the latest camera.
For this review, it makes sense to compare the Activeon CX to GoPro Hero range cameras, rather than one particular camera. Let's begin with GoPro Hero 8.
GoPro Hero 8 Black
The GoPro Hero 8 Black retails for around $300. It comes with, what GoPro calls, Hypersmooth 2.0. Hypersmooth stabilizes your camera footage and has three levels of stabilization: On, High, and Boost.
It lets you obtain videos that are comparable to gimbal-stabilized ones when skiing, jogging, bicycling, and doing any other activities that may involve you moving a lot.
The camera captures some stunning wide-angle views, something GoPros are famous for. You can tweak around with the resolutions and frame rates. Go pro cameras have started to feature in-app horizon leveling.
This is called horizon lock in the newer model. This prevents the horizon on your footage to be, well… horizontal. It keeps the footage level with the horizon.
In terms of specification, the GoPro Hero 8 uses a 12 MP CMOS sensor with RAW output. It has a 2″ touchscreen for the user interface.
The videos you record can be 4K video recording at 60fps. It is waterproof to 33′ without housing, and you can add a cover to be extra-safe. The connectivity is Bluetooth. All these functions are packed into a streamlined design.
If you are Vlogging, filmmaking, or creating any kind of content, you can add mods (sold separately) to the camera. Media Mod gives you shotgun-mic performance and lets you attach Light Mod and Display Mod to up your capture action.
The GoPro also has a front display that helps you see your time with recordings. The stabilization feature really helps you create great videos.
For the size of the camera, the GoPro video performance is remarkable. It has top-of-the-line image stabilization and can shoot 4K at various frame rates. It also shoots 1080p videos in slow-motion at 240fps.
GoPro Hero 9
While the GoPro Hero 9 has a similar image quality as that of Hero 8, many things around the camera have significantly changed. It is appropriate to say that the latest GoPro action camera has set a new benchmark for the whole segment.
Let's begin by mentioning the 1.4″ Color LCD with Live Preview front-facing screen that lets you see what you're shooting. More often than not, after shooting a video with your action camera, you would realize that your framing was all over the place.
With Live Preview front-facing screen on GoPro Hero 9, you will not have that problem. If you are planning to vlog with your action camera this is going to make an enormous difference.
Along with the specification boost, the price has also gone up to around $350. Add some accessories, and you're looking at an action camera that will set you back by around $500.
For this money, you will get a 20 Mega Pixel 1/2.3 sensor, HyperSmooth 3.0 stabilization and Horizontal levelling. These are all standard upgrades from the Hero 8. Your videos are going to be up to 4K at 60 frames per second or 5K at 30 frames per second.
The Activeon CX: The challenger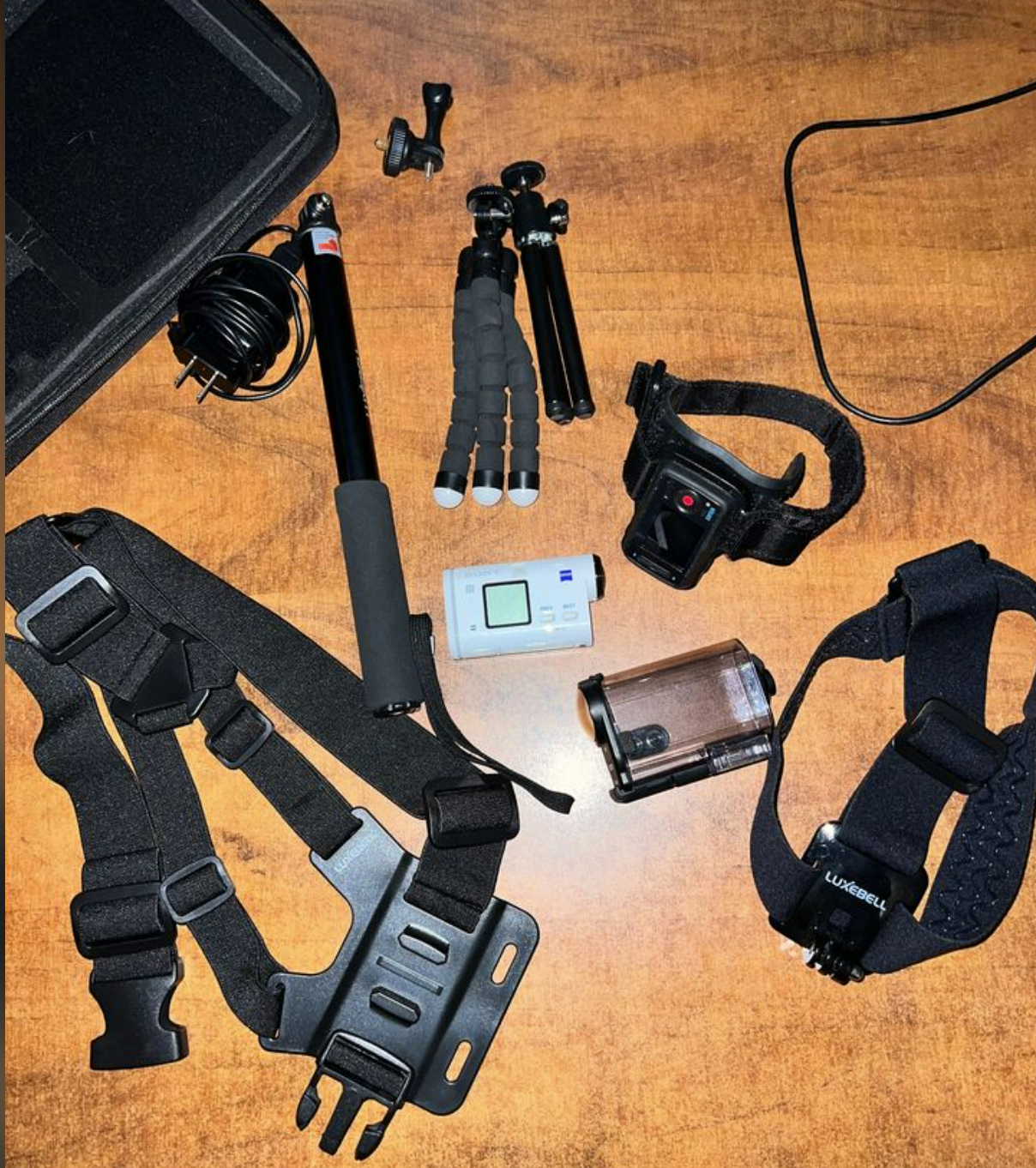 The Activeon CX is a budget-friendly entry-level action camera with specs and pretty standard features with action cameras. The cameras are also called a GoPro Killer by some users.
The Activeon camera features a soft touch feel and a small and premium-looking design. It has a 2-inch LCD monitor for the user interface. The user interface is easy to use with two-button controls that allow users to switch easily between settings.
Additional features include built-in Wi-Fi (and an app) for controlling the camera remotely from your mobile device, as well as an HDMI output for connecting to a TV.
The Activeon also shoots in 1080p at 30 frames per second as well as 720p at 60 frames per second for slow-motion action sequences, it offers four fields of vision choices ranging from super-wide to tight.
There are also a variety of effects and color options, as well as 'night/sports' modes for boosting the gain in low light and 'aqua' for color correction (white balance) when recording underwater. The Activeon camera also comes with a waterproof case that can go 40 meters deep. The interface is easy to use.
With Activeon you can get all the features that you would expect from an action camera such as multi-picture burst, Time-Lapse recording, a selectable field of view, slow motion recording and Time-Lapse recording.
The device is waterproof to 60 meters, provided you're using the waterproof casing that comes with the product.
Activeon or GoPro? – How the cameras compare
Both Activeon and GoPro are great cameras, and, on price, they are positioned pretty far away from each other. On the purpose of the product, they are toe to toe.
However, there are areas where Activeon outshines GoPro. The first area is price, there is no comparison really. You could buy up to four Activeon cameras for the price of one GoPro, maybe even six. This can be a huge deciding factor for many people.
Even better, at this attractive price point, you are not making many compromises. The video recording is Full HD 1080P at 30 frames per second.
Though the video quality is maxed out at 1080p, it is still good for most situations where you'd use an action camera. If you're someone who needs a higher resolution, you need to look at other options from GoPro.
Your videos on Activeon are easily accessible, thanks to its built-in Wi-Fi. A single charge would give you around 120 minutes of shooting, and mind you an extra battery would cost you a lot less as well. GoPros are good for around ninety to a hundred minutes.
With Activeon you are getting an effective resolution of 16MP sensor, while with GoPro you are either getting a 12 MP or a 20 MP sensor, depending on which one you buy, the Hero 8 or Hero 9 respectively.
The Activeon CX also has an automatic time-lapse video recording and water, sport, and night video modes. Physically, it looks strikingly similar to a GoPro.
The mounting features and connectivity features are similar in both cameras, however, Hypersmooth on GoPro offers better stabilization. Activeon has its own stabilization, but it is not as good as the one on GoPro.
Conclusion: Activeon puts up a fight
For many people, the trade-off between the specifications of the GoPros and price is not going to be worth it. Plus, if you are looking at a group expedition, and if everyone needs a camera, then the price just multiplies.
For such situations, Activeon, with its amazing range of accessories, makes a lot more sense. If you are looking to add an action camera to your set of shooting equipment, for example- to supplement your DSLR, then Activeon can help you do that without having to think twice. The possible application is plenty.
Simply said, if you have some money to spare, GoPro, with its market-leading features, is going to be a straightforward choice, Activeon packs a similar punch at a much lower price. Our final verdict is that the Activeon action camera is a formidable alternative to GoPro cameras.